Jurassic World: Dominion Dominates Fandom Wikis - The Loop
Play Sound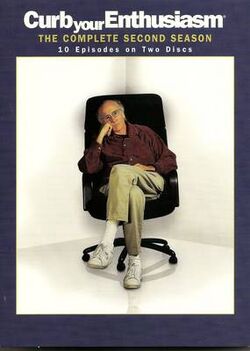 Season 2 of Curb Your Enthusiasm began on September 23, 2001 on the HBO Network.
Summary
[
]
Larry David pursues a new television project, first with Jason Alexander, and then Julia Louis-Dreyfus. Based on Alexander's complaints, the premise is about an actor who starred in a megahit sitcom who finds it difficult to maintain a steady career afterward because of the public's perception of typecasting. Larry pitches the idea to various networks, but eventually ends up alienating or offending everyone he makes a deal with, and anyone else attached to the project.
Production
[
]
Cast
[
]
Main cast
[
]
Guest stars
[
]
Special guest stars
[
]
Shaquille O'Neal

Ed Asner
Episodes
[
]
Picture
Episode
Episode Number
Season Number
Production Code
Original Airdate
The Car Salesman
11
2
September 23, 2001
Larry shocks his wife and friends by deciding to take a job as a car salesman, but is foiled when "high-maintenance" Richard Lewis shows up at the dealership. Larry and Jason Alexander contemplate making a new TV series about an actor who can't find work because he is typecast as his character from a hit television show.
Thor
12
2
Setpember 30, 2001
Larry seeks revenge on pro wrestler Thor Olson (Deron McBee), who he's convinced slashed his tire after an argument on the road, and recruits Jeff to redress the wrong in return for Larry's delivering Jeff's clothes to his hotel after he and Susie had separated. Larry decides to meet with Jason Alexander about their new show, but the two end up getting into an argument about where they should have the meeting.
Trick or Treat
13
2
October 7, 2001
Larry refuses to give candy to uncostumed teenagers on Halloween. As a result the vengeful teens toilet-paper his house and spray-paint "Bald Asshole" across his front door. Larry and Cheryl attend a handicapped friend's movie premiere.
The Shrimp Incident
14
2
October 14, 2001
Larry accuses HBO executive Allan Wasserman of stealing shrimp from his Chinese food; Julia Louis-Dreyfus wants to pitch the show to HBO.
The Thong
15
2
October 21, 2001
Larry wants to discontinue his counseling when he sees his therapist (John Pleshette) in a thong; Rob Reiner convinces Larry to do a lunch as a prize in a "Groat's syndrome" charity auction, only for him to annoy the winner when he starts eating first.
File:The Acupunturist.png
The Acupuncturist
16
2
October 28, 2001
Larry lends $5,000 to an old friend and offers another $5,000 to his acupuncturist (Keone Young) if he can cure his neck problems.
The Doll
17
2
November 4, 2001
Larry and Julia successfully pitch the show to ABC; Larry then traumatizes the executive's daughter by cutting her priceless doll's hair off. He then makes things worse by stealing the same doll's head from Sammy's collection.

Note: "The Doll" was also the name of a Seinfeld episode.

Shaq
18
2
November 11, 2001
Larry accidentally trips Shaquille O'Neal at a Lakers basketball game, which works out to be beneficial for Larry. Shaq is a big Seinfeld fan, and the knee injury is better than feared.
The Baptism
19
2
November 18, 2001
Larry and Cheryl run into a score of problems as they travel to attend her sister's Jewish fiancé's baptism simply because Larry misplaced some plane tickets; Richard Lewis accuses Larry of stealing his outgoing answering machine greeting.
The Massage
20
2
November 25, 2001
Larry and Julia make a final attempt with CBS. Taking a night out with Cheryl, Larry attempts to walk the etiquette minefield with their driver, leading to an embarrassing situation.