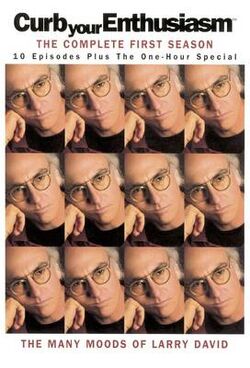 Season 1 of Curb Your Enthusiasm began in October, 2000 on the HBO Network.
Production
Edit
Main cast
Edit
Guest stars
Edit
Special guest stars
Edit
Picture
Episode
Episode Number
Season Number
Production Code
Original Airdate
The Pants Tent
1
1
October 15, 2000
Larry's baggy new pants create awkward misunderstandings between Larry, Cheryl (Cheryl Hines), and her friend (Robin Ruzan). A movie-theater argument with a female 'stranger' (Sofia Milos) leads to tensions between Larry and his best friend (Richard Lewis). Larry's joking referral to Cheryl as "Hitler" (during a car speakerphone conversation with Jeff (Jeff Garlin) causes Larry's attempts to hide it from Cheryl – and to appease Jeff's Holocaust-sensitive parents (Mina Kolb, Louis Nye) – to backfire disastrously. Kathy Griffin makes a cameo appearance.
Ted and Mary
2
1
October 22, 2000
Larry and Cheryl spend quality time with new celebrity friends, Ted Danson and Mary Steenburgen; Larry's shoes are stolen at the bowling alley and Larry confronts the person who took them. Larry also goes on a shopping trip with Mary's mother (Anne Haney).
Porno Gil
3
1
October 29, 2000
Larry and Cheryl are invited to a dinner party thrown by a retired porn star, Gil Bang (Bob Odenkirk). Jeff, who is in the hospital after a routine check-up reveals he urgently needs emergency bypass surgery, asks Larry to hide his porn collection from Susie (Susie Essman) in case something happens to him. However, it is Susie's parents that discover Larry enjoying Jeff's porn near the end.

This is the only episode without the standard opening title card with the characteristic black background.

The Bracelet
4
1
November 5, 2000
Larry wants to buy a bracelet for Cheryl but looks unpresentable in his appearance; later, Larry and Richard Lewis help a blind man (Patrick Kerr) move into his apartment.
Interior Decorator
5
1
November 12, 2000
Larry keeps missing appointments with Diane Keaton; Larry is angered by the operations of his doctor's office, and gets into a tussle with Diane Keaton's Interior Decorator.
The Wire
6
1
November 19, 2000
To bury a telephone wire, Larry must befriend his next door neighbors, the Weinstocks (Wayne Federman, Lucy Webb), who ask to meet Julia Louis-Dreyfus.
AAMCO
7
1
November 26, 2000
Cheryl holds a dinner party; Larry test drives Jeff's car which leads to an accident after he hears the trademark double-horn sound effect in an AAMCO radio commercial, mistaking it for a real horn.
Beloved Aunt
8
1
December 3, 2000
Cheryl's parents (Paul Dooley, Julie Payne) ask Larry to write an obituary for Cheryl's aunt, and a newspaper error results in the letter 'c' replacing the 'a' in 'aunt.' Naturally, Larry is blamed for the mistake.
Affirmative Action
9
1
December 20, 2000
Larry makes an inappropriate humorous remark to an African American doctor; Larry and Cheryl travel across L.A. to retrieve a prescription.
The Group
10
1
December 27, 2000
Jeff offers Cheryl a role in The Vagina Monologues; Larry runs into an old girlfriend (Melanie Smith) who asks him to go to an incest survivors group with her which is led by the director of the show (Laraine Newman).