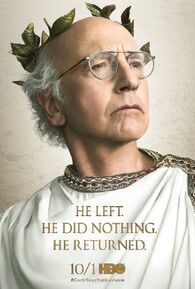 Season 9 is the ninth season of Curb Your Enthusiasm, which started with the episode Foisted! on October 1, 2017 and ended with the episode Fatwa! on December 3, 2017.
Summary
[
]
Larry incurs a fatwa from the Supreme Leader of Iran, Ayatollah Ali Khamenei, after lampooning the Ayatollahs while appearing on Jimmy Kimmel Live! in promotion of his latest, long-awaited project, a comedy musical called Fatwa!, centered on The Satanic Verses controversy, in which Ayatollah Khomeini ordered a fatwa against Salman Rushdie in 1989. (from wikipedia)
Production
[
]
Cast
[
]
Main cast
[
]
Guest stars
[
]
Episodes
[
]
The Pickle Gambit
A Disturbance in the Kitchen
Running with the Bulls
Thank You for Your Service
The Accidental Text on Purpose
Namaste
Never Wait for Seconds!
The Shucker
Fatwa!