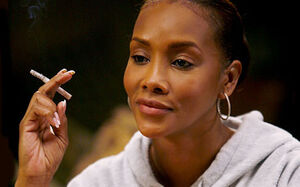 Loretta Black (born 1964 July 31 Indiana United States) she is a working-class woman and single mother of two from New Orleans who relocates to Los Angeles to live with Larry David and Cheryl David after Hurricane Edna.
Family
[
]
Loretta Black is the sister of Leon Black and the mother of two children. Her mother, Auntie Rae also comes to live with them after the hurricane.
Romantic Involvement
[
]
Loretta's relationship with Larry is cold at times, but overall friendly and platonic until he and Cheryl split up. She agrees to go with him as his date to Sammy Greene's bat mitzvah in the episode, The Bat Mitzvah, where they end up falling for each other. We find out she has cancer at the beginning of Season 7. She and Larry break up shortly after because she mistakenly thinks he cheated on her with a woman who is actually sleeping with Leon Black.

Vote on the Top Ten List of Larry's Women!