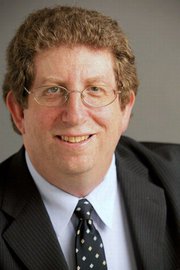 Hiram Katz is shown in the episode The Divorce in Curb Your Enthusiasm Season 8. Hiram Katz is a Jewish lawyer that Larry chooses over his first divorce lawyer, Berg, when he is getting his divorce from Cheryl David. He primarily chooses Hiram because he's Jewish, but also because he defends Larry when a restaurateur tries to make him pay for two buffet servings when he shares with his friend, Jeff Greene.
Katz turns out to be a bad lawyer, however, costing the owner of the Dodgers, Joe O'Donnell, his team to his ex-wife. Larry tries to rush to the law office to stop the signing of the divorce papers, with the sense that Hiram Katz will ruin his divorce too.
Hiram Katz is played by Dan Jablons.