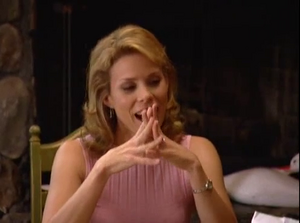 Cheryl David (born 1965 September 21 Florida United States) she is the tritagonist of Curb Your Enthusiasm. She is Larry David's ex-wife.
Cheryl comes from a religious Christian family, consisting of her parents who seem cold around her husband Larry and her sister Becky.
She is close with comedian Wanda Sykes and actor Ted Danson. Larry often feels threatened by her friendship with Ted.
Personality
Edit
Cheryl is passionate about environmental issues, and is an aspiring actress, briefly appearing in The Vagina Monologues. It is hinted at that she is mostly interested in Larry for his money in the episode "The End," when Larry temporarily dies and from his deathbed he sees her ask his doctor immediately about what she should do about his will. After their separation in Season 6, Larry tries to win her back.
See Top 10 List of Larry's Women and vote!