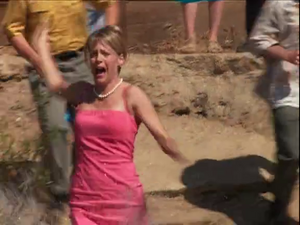 Becky is the sister of Cheryl David. She is shown in the episode The Baptism when she wants her Jewish fiancé to get baptized.
In Season 10 Episode 8, Cheryl tells David that Becky, now estranged, is selling the house that Larry and Cheryl gave her 15 years ago. Upset that Becky will profit off the house he gave Becky, Larry confronts her, asking for the house back, while she keeps the accrued value of the house. She cries in desperation, and Larry decides to let her keep the house and profits. They sleep together and begin a relationship. Larry helps her clean up the house and sell it.
Later, Becky injures herself while on a ski trip in Colorado. She calls Larry, who says he will be on the next flight to visit her. He calls the travel agent, but after deliberation, books the next first class flight, even though there were sooner coach flights available. He misses the flight due to filling in for the newspaper stand worker for the Gotta Go app, and ultimately arrives 48 hours after Becky called Larry. She breaks up with him due to his tardiness. 
Community content is available under
CC-BY-SA
unless otherwise noted.